---
BMWdiy.INFO
E39 4-Wheel Alignment Specs

---
Prepared by VietSB
Modified 07.15.04



NOTE: Perform these steps at your own risk. All P/N's listed are a "best guess", so please double-check with your local dealer. These mods and repairs were performed on my US-spec 1997 540iA (11/96 prod date, M62 engine) but there is no guarantee they will work on other E39's. These instructions are provided for entertainment purposes only!
---
BACKGROUND: After 7K miles, 2 different spring+shock combos, f+r swaybar install, and upgrading to 19" rubber, it was finally time for a 4-wheel alignment to protect the pricy new tires. This vehicle is lowered with an H&R/Koni suspension, so the final specs below do not reflect optimum OEM settings and are only shown for discussion purposes.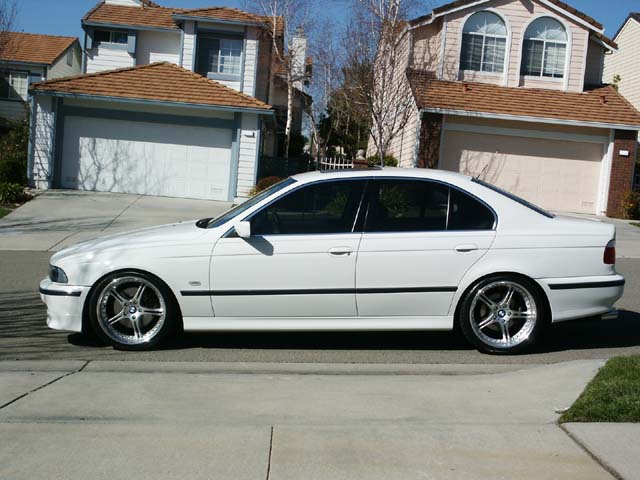 I spent 1.5 hours waiting at Custom Alignment in Mountain View, CA. They came highly recommended and I agree completely. They use John Bean Visualiner 3D Computer Assisted Wheel Alignment machines and have a Hunter TC350 Tire Mounting and GSP9700 Road Force Measurement Wheel Balancer machine.
---
VietSB's 1997 540iA
Primary Angles
Initial
Specifications
Final
Min
Max
Front
Caster
Left
6.8º
5.8º
6.8º
6.8º
Right
6.5º
5.8º
6.8º
6.6º
Camber
Left
-1.1º
-0.7º
0.3º
-1.1º
Right
-1.4º
-0.7º
0.3º
-1.5º
Toe
Left
1/16"
1/32"
3/32"
1/32"
Right
-1/32"
1/32"
3/32"
1/32"
Total
1/16"
1/32"
3/16"
1/16"
Rear
Camber
Left
-2.3º
-2.2º
-2.0º
-1.1º
Right
-2.4º
-2.2º
-2.0º
-1.1º
Toe
Left
1/32"
1/16"
3/32"
1/16"
Right
5/32"
1/16"
3/32"
1/16"
Total
3/16"
5/32"
7/32"
1/8"
Secondary Angles
Initial
Specifications
Final
Min
Max
SAI
Left
14.7º
---
---
14.8º
Right
14.9º
---
---
14.8º
Included Angle
Left
13.6º
---
---
13.7º
Right
13.5º
---
---
13.3º
Setback
Left
0.0"
---
---
0.0"
Right
-0.1"
---
---
-0.1"
Track Width Difference
1.8"
---
---
1.8"
Wheel Base Difference
0.1"
---
---
0.1"
Keep in mind the minimum and maximum "Specifications" shown above are probably for a non-lowered non-sport E39 540. I haven't driven enough to know for sure how good or bad the handling is, but I'm sure they've optimized my car for the garage queen duties I told them to dial-in! In reality, I indicated this car would be more street-use than track-use, so they did things like set less negative rear wheel camber than even specification to maximize tire life. I'll have to take some spirited drives to see how this affects my handling characteristics.
The one thing they commented on is my caster difference. They normally see US-spec cars have a slightly lower left than right caster figure to counteract the crown in our roads. Since mine is opposite, it will induce minor right pull when combined w/ the crowned road. I haven't noticed this, probably since I don't have rack and pinion steering. :)
---
| | |
| --- | --- |
| Questions? Comments? E-mail me: | . |
Click Here to return to the Main Menu.
---
Optimized for 800x600 or higher resolution.
Copyright &copy Midnight Designs, 2004. All Rights Reserved. All images and registered trademarks are used to benefit and without intent to infringe on the holder. Contents Subject to Change Without Notice.