---
BMWdiy.INFO
E39 Emblem Removal and
Carbon-Fiber Look Decals
---
Prepared by VietSB
Modified 04.30.03



NOTE: Perform these steps at your own risk. All P/N's listed are a "best guess", so please double-check with your local dealer. These mods and repairs were performed on my US-spec 1997 540iA (11/96 prod date, M62 engine) but there is no guarantee they will work on other E39's. These instructions are provided for entertainment purposes only!
---
BACKGROUND: Some folks might not like tarnishing the classic blue/white of the BMW roundel, but against some paint schemes these carbon-fiber look decals aren't all that bad.

Just a word of warning to carefully measure your existing emblems because these decals come in a variety of sizes, especially for the wheel emblems.
---
Required Parts:
Hood+trunk emblems with carbon-fiber look pie-wedge decals, entirely covered with a protective clear decal
Wheel emblem carbon-fiber look pie-wedge decals (available here)
(Qty 2) P/N 51 14 1 807 495 Hood grommet
(Qty 2) P/N 51 14 8 209 932 Trunk grommet
Required Tools:
Small flat-head screwdriver
Towel
Credit card or dental floss
X-ACTO knife
---
1. Use a credit card or dental floss to slightly pry up the top or bottom edge of the emblem. Protect the car paint with a towel as you carefully(!) pry up at the 3 and 9'oclock positions. Take your time and work slowly to pop the emblem out. Here's a pic of the pin locations to be pried up.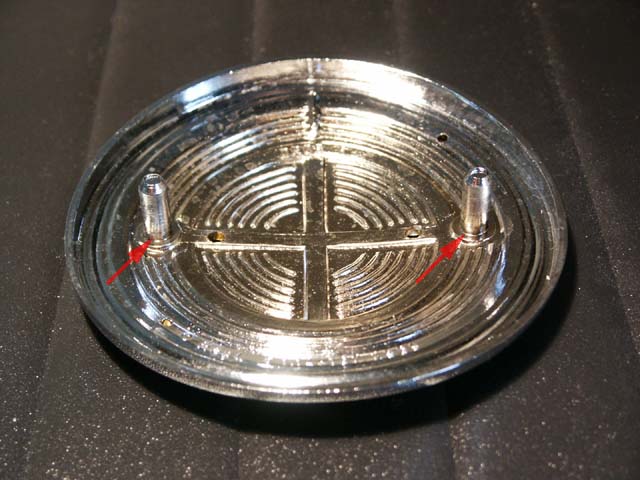 ---
2. Clean the area under the emblems and install new grommets onto the mounting pins prior to pushing the new emblems into place.
---
I purchased new emblems with the decals pre-installed and a nice protective clear decal over then entire emblem which prevents people feeling the "lip" of the wedge decals. I was also a bit worried how the decals would handle car washing, but not with these. After talking to other folks, even without the clear decal they usually hold up fine with normal care.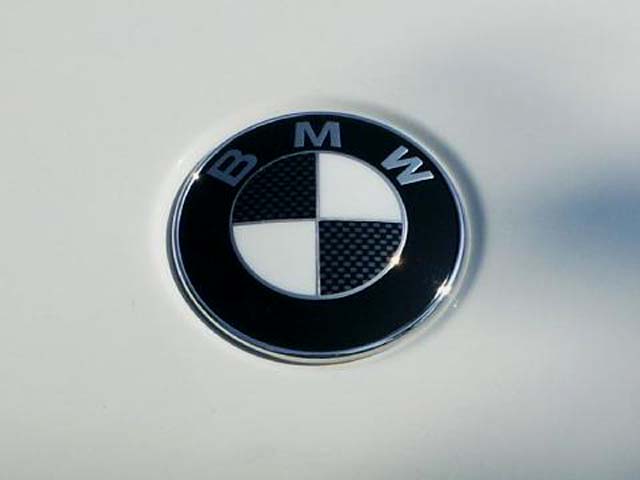 Before and after pics of the wheel emblems (without clear covering). I used the X-ACTO knife to lift the decals off the backing paper and carefully place it over the blue portions of the emblems.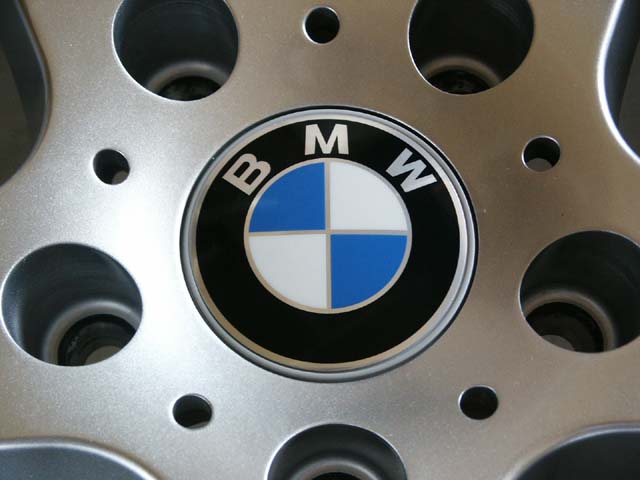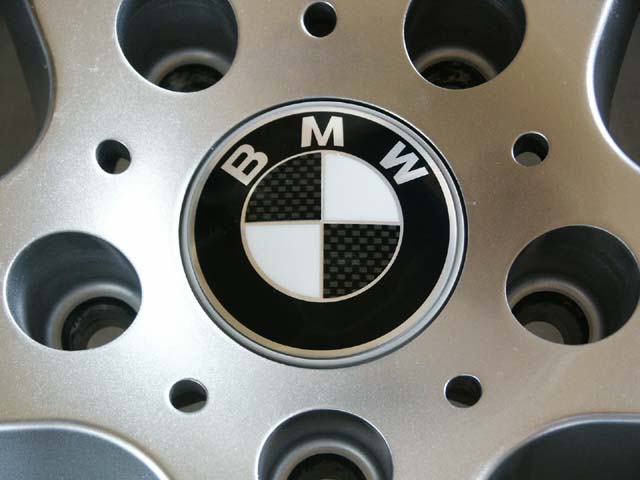 ---
| | |
| --- | --- |
| Questions? Comments? E-mail me: | . |
Click Here to return to the Main Menu.
---
Optimized for 800x600 or higher resolution.
Copyright &copy Midnight Designs, 2002-2003. All Rights Reserved. All images and registered trademarks are used to benefit and without intent to infringe on the holder. Contents Subject to Change Without Notice.