---
BMWdiy.INFO
E39 Aerodynamic Lip Spoiler
---
Prepared by VietSB
Modified 04.13.04



NOTE: Perform these steps at your own risk. All P/N's listed are a "best guess", so please double-check with your local dealer. These mods and repairs were performed on my US-Spec 1997 540iA (11/96 prod date, M62 engine) but there is no guarantee they will work on other E39's. These instructions are provided for entertainment purposes only!
---
BACKGROUND: The BMW supplied instructions are self-explanatory enough so most home mechanics should have almost no problems with installation. Lately, I've been hearing more and more stories of buyers receiving either no, wrong, or German-language instructions with their order. E-mail me if this happens to you.

Keep in mind this spoiler is intended for early-model E39's which originally came with the stubby front spoiler/airdam. 2001+ models came stock with a fairly nice spoiler and round fog lights, so I wouldn't even replace it (IMHO). Check the pics below to see if you have the older bodywork.

This add-on spoiler slides over the bottom portion of the existing airdam and glues (supplied) to the center portion of the airdam as well as the sides. It also reuses the fender liner screws, and 2 new holes w/ body fasteners to secure it. It's probably recommended to install the spoiler within a couple of days of having it professionally painted to be sure the flex agent hasn't fully cured.
---
Required Parts:
P/N 82 62 9 407 929 Aerodynamic lip spoiler [pre-09/00] (~$300 from Pacific BMW)

Required Tools (as listed in instructions):
1/4" ratchet, extension, 8mm socket
Broad adhesive tape of good bonding strength
Knife
Scissors
Cleaning cloth
Glue and parts included in package
Drill with 5.5mm bit (approx 7/32")
Recommended Tools:
Floor jack+jackstands or ramps for drilling underneath the car.
Rubber gloves
Two people for ease of installation, especially when dealing with the adhesive and alignment
---
1. Again, just carefully read and follow the supplied instructions. The fender liner work can be done by simply pointing the front wheels to the sides.

Here's a before and after pic: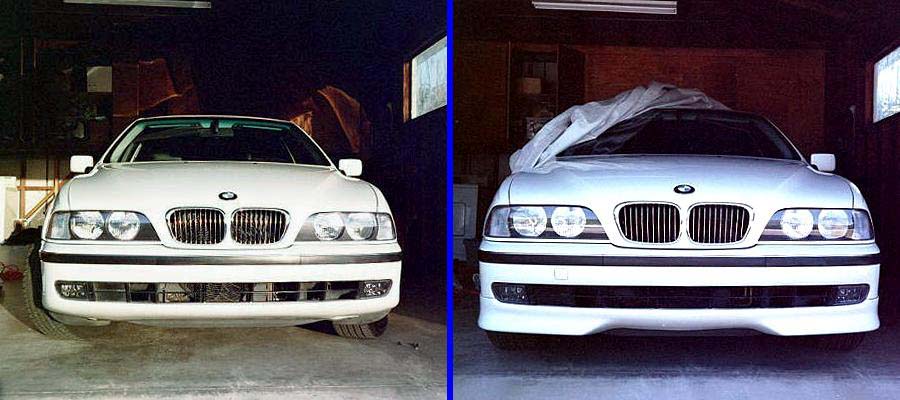 ---
| | |
| --- | --- |
| Questions? Comments? E-mail me: | . |
Click Here to return to the Main Menu.
---
Optimized for 800x600 or higher resolution.
Copyright &copy Midnight Designs, 2004. All Rights Reserved. All images and registered trademarks are used to benefit and without intent to infringe on the holder. Contents Subject to Change Without Notice.